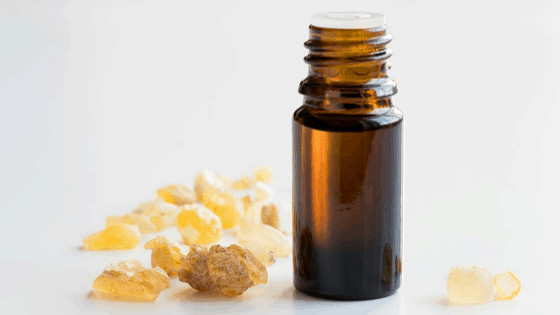 16 Oct

Frankincense Essential Oil Health Benefits

Frankincense – one of the herbs that was given as a gift to baby Jesus from the three wise men. You'll realize just how wise they were when you learn about frankincense essential oil! A powerful, anti-inflammatory, health promoting essential oil that I just can't get enough of. While some people may feel it's a bit woody-smellin', the health benefits is what attracts me most to it! I will always have it on my essential oil shelf.
Where does it come from?
Frankincense comes from a tree, specifically the resin that comes out of the tree. You'll find these beautiful trees more in Africa and India. Frankincense was used in ancient times for many illnesses and still holds beneficial properties to our health today! Let's jump right in shall we?
Health Benefits
Frankincense can help osteoarthritis. A human study was done to compare the two most powerful natural anti-inflammatories, frankincense & turmeric, compared to celecoxib (a drug that is used to be an anti-inflammatory and used for conditions like arthritis). The blend of frankincense and turmeric in patients performed BETTER than the conventional anti-inflammatory AND there was no dose-related toxicity! That's the beauty of nature.
Another study done showed that patients that had osteoarthritis in the knee showed decreased knee pain, increased flexing of the knee, and increased walking distance compared to the placebo group.
There is a strong connection between frankincense and cancer. As with many essential oils, frankincense holds certain chemical compounds that can demonstrate these health benefits. The University of Leicester in the UK has been studying these chemical compounds in frankincense, specifically AKBA, and successfully showed how it can target and combat cancer cells in late-stage ovarian cancer. A study tested a frankincense-based cream that could protect the skin from damage from radiotherapy treatments.
Some doctors that have studied frankincense explained how it is able to promote proper gene expression and can distinguish the difference between a cancer cell and normal cells. A study done in the BMC Complementary Alternative Medicine Journal showed exactly what the gene expression can do in bladder cancer patients. In the abstract, the results stated this,
Comprehensive gene expression analysis confirmed that frankincense oil activates genes that are responsible for cell cycle arrest, cell growth suppression, and apoptosis.
The same medical journal published study that was done with pancreatic cancer cells this time. This showed that the longer frankincense was hydrodistilled that the total chemical components were stronger. No matter how long the hydrodistillation was though, the cancer cells showed increased cell death and decreased cell viability. Many researchers are still researching the effects of frankincense and cancer, but so far it's looking good.
Frankincense is also great for gut health. Since it's known to be a natural anti-inflammatory, it can reduce the inflammation in the gut lining and protect the lining from further damage. It's been studied to be beneficial for ulcerative colitis, as well as many other inflammatory bowel diseases.
How To Use Frankincense
I personally never use essential oils internally due to the fact they are very potent and that I don't have any chronic illnesses. If you find yourself battling a chronic illness, please make sure you are working with a functional medicine doctor and certified aromatherapist to internally take frankincense. One of the best ways to use essential oils and the way I use frankincense is diffusing it and topically applying it making sure that it is diluted with a carrier oil, such as coconut oil. Don't use this one neat.
What I personally use frankincense for is to enhance my meditation practices to help clear my mind, relieve stress, support my cellular health, aid to my immune system, and help with muscle aches.
Do you use frankincense? If so, why is frankincense a must-have for you and how do you use it?