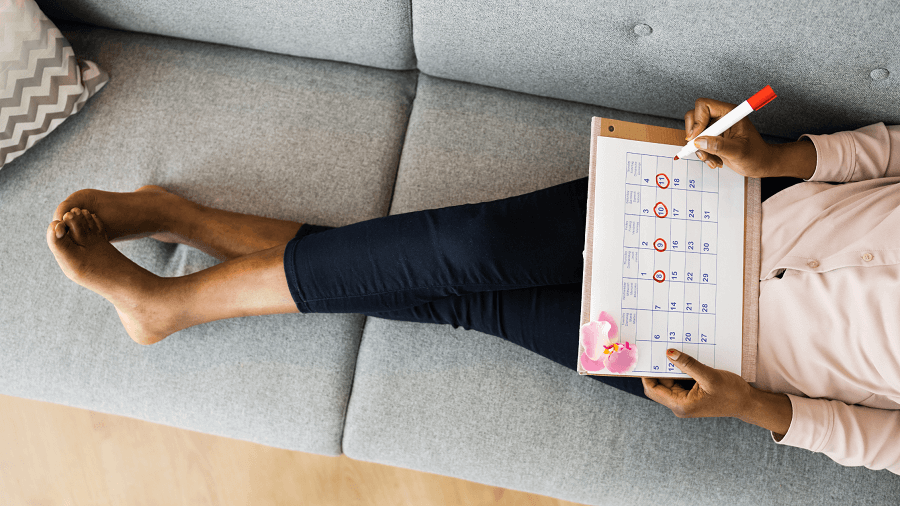 11 Nov

Foods For Your Menstrual Cycle

Foods for your menstrual cycle….we are HERE FOR IT!

Nothing motivates me more than seeing women embrace their menstrual cycle and work WITH it, instead of against it. Let's chat about food for your menstrual cycle, so you can be empowered and feeling your best as each phase comes your way.
Follicular Phase Foods
The follicular phase is days 1-14 of your cycle (beginning at the start of your bleed and going to ovulation)! The goal for using food during your follicular phase is to help support the rising estrogen and replenishing your nutrients post-bleeding.
Losing blood can take a lot of out a girl!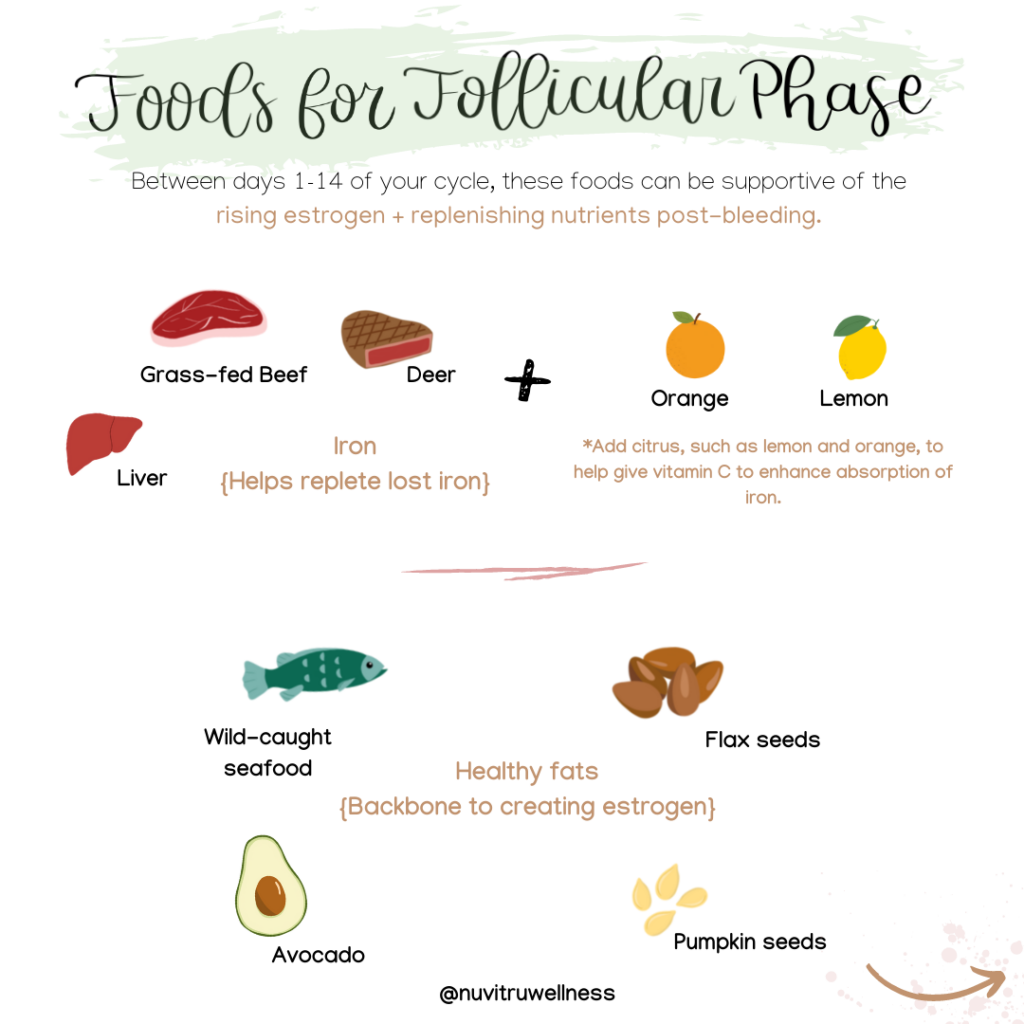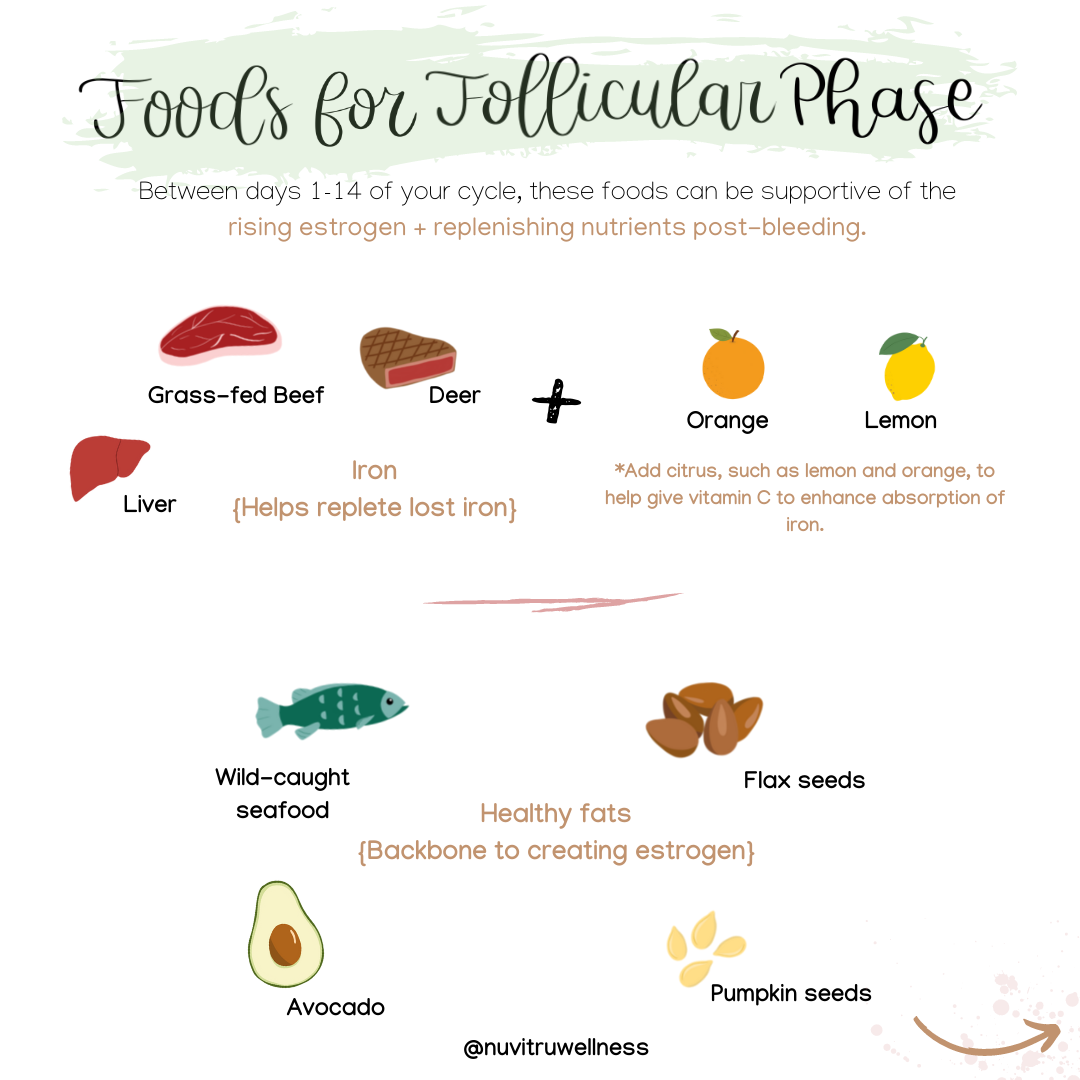 To support your iron levels post bleed, you'll want to eat those high-quality animal proteins that are loaded with iron! Combine those protein-rich foods by marinating them or serving them with citrus fruits! Citrus fruits hold vitamin C and vitamin C helps iron absorption. Skip the cheese + high calcium foods with your iron-rich animal proteins because calcium inhibits iron absorption!
Next, you'll want to eat all the healthy fats, such as avocado, wild-caught seafood, and seeds, to support your estrogen production. Psssttt, your sex hormones NEED fat to be created. Once you have healthy estrogen levels, you'll want to support your body by being able to detox your estrogen correctly in your liver. Once your body is done with estrogen, it'll start the detoxification process to eliminate it from the body.
Those cruciferous vegetables shine here! Cruciferous vegetables are broccoli, cauliflower, kale, cabbage, brussel sprouts, and more. These vegetables push your estrogen down a protective pathway of detox vs a pathway that can cause cellular damage.
After liver detoxification, the last stop is in the gut. We want to keep our gut in tip-top shape, so we can fully eliminate hormones and NOT reabsorb them, which can happen when gut imbalances are present. Probiotic-rich foods, such as pickles, yogurt, kimchi, sauerkraut, can all benefit by providing your intestines with healthy bacteria.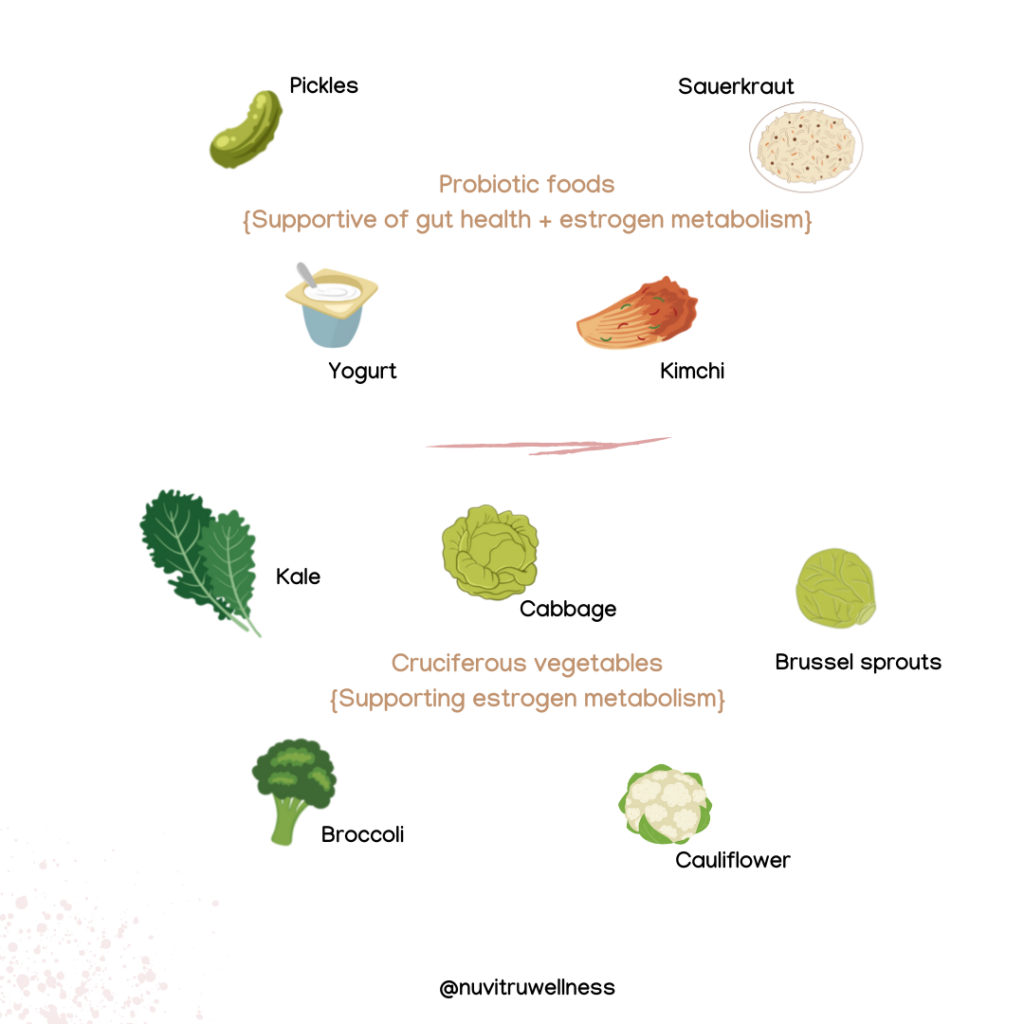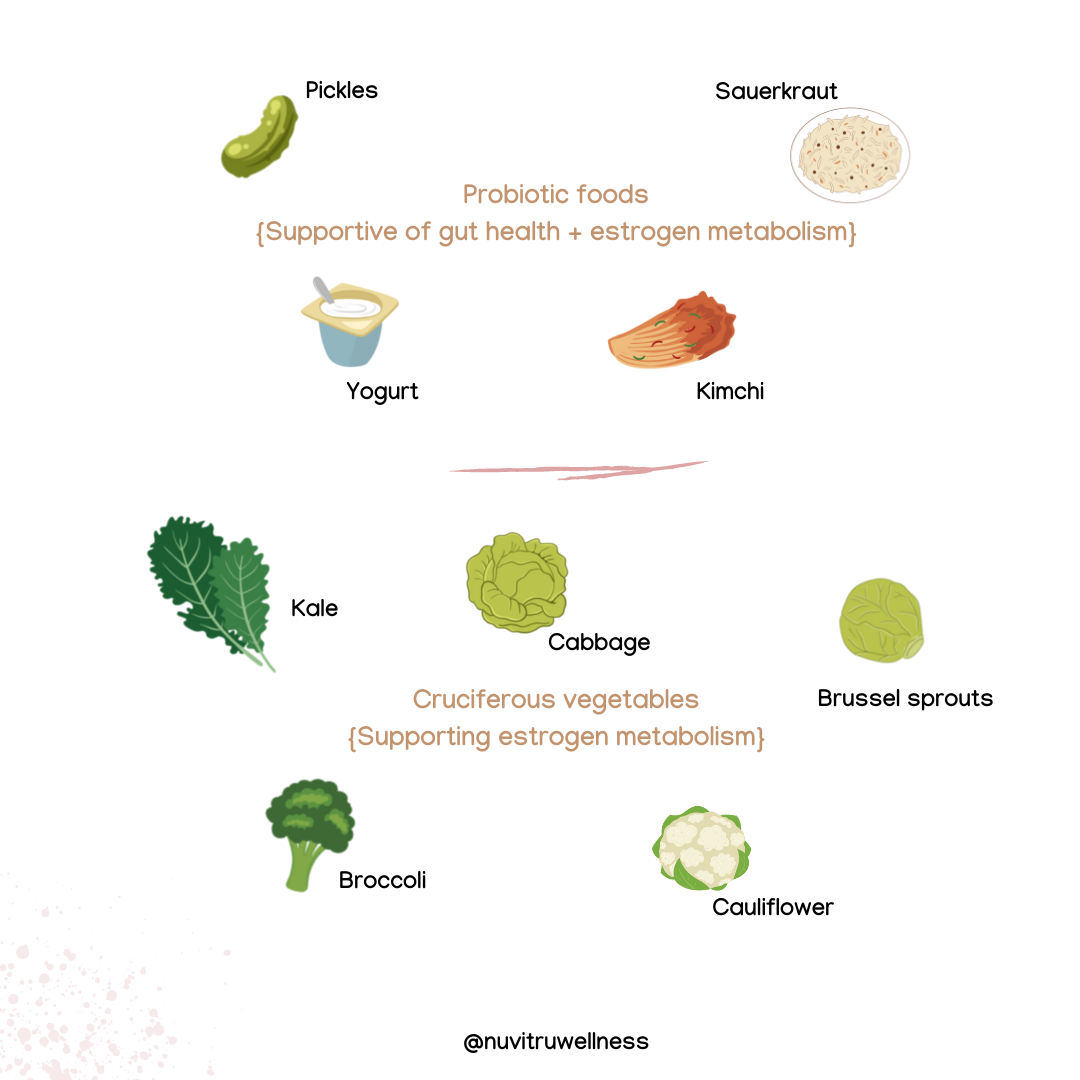 Luteal Phase Foods
Onto the luteal phase! Luteal phase begins at ovulation and ends the day before you start bleeding. While estrogen is the rockstar in the first phase, progesterone is the rockstar in this phase! Electrolytes fall a bit during your luteal phase, so it's important to either supplement and/or focus on electrolyte-dense foods. Out of all the electrolyte supplements, LMNT watermelon flavor is by far my favorite!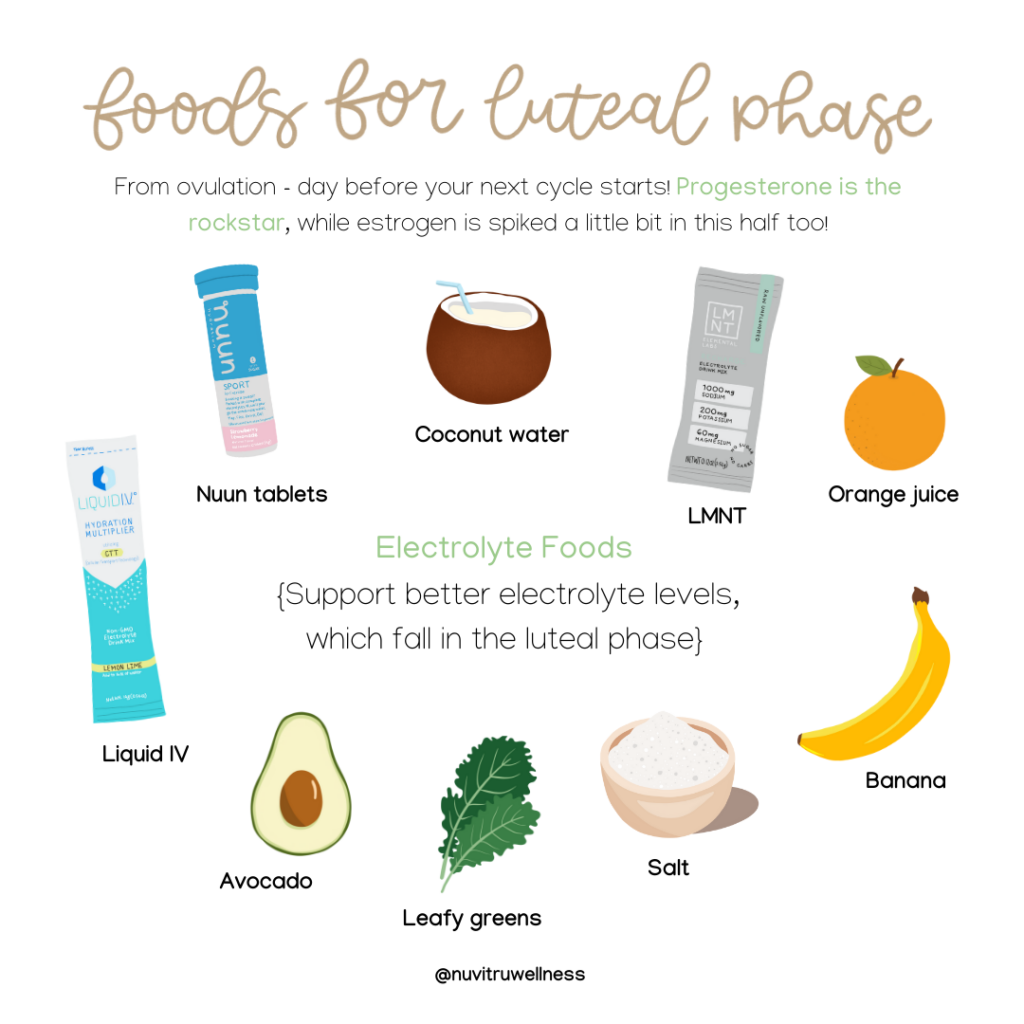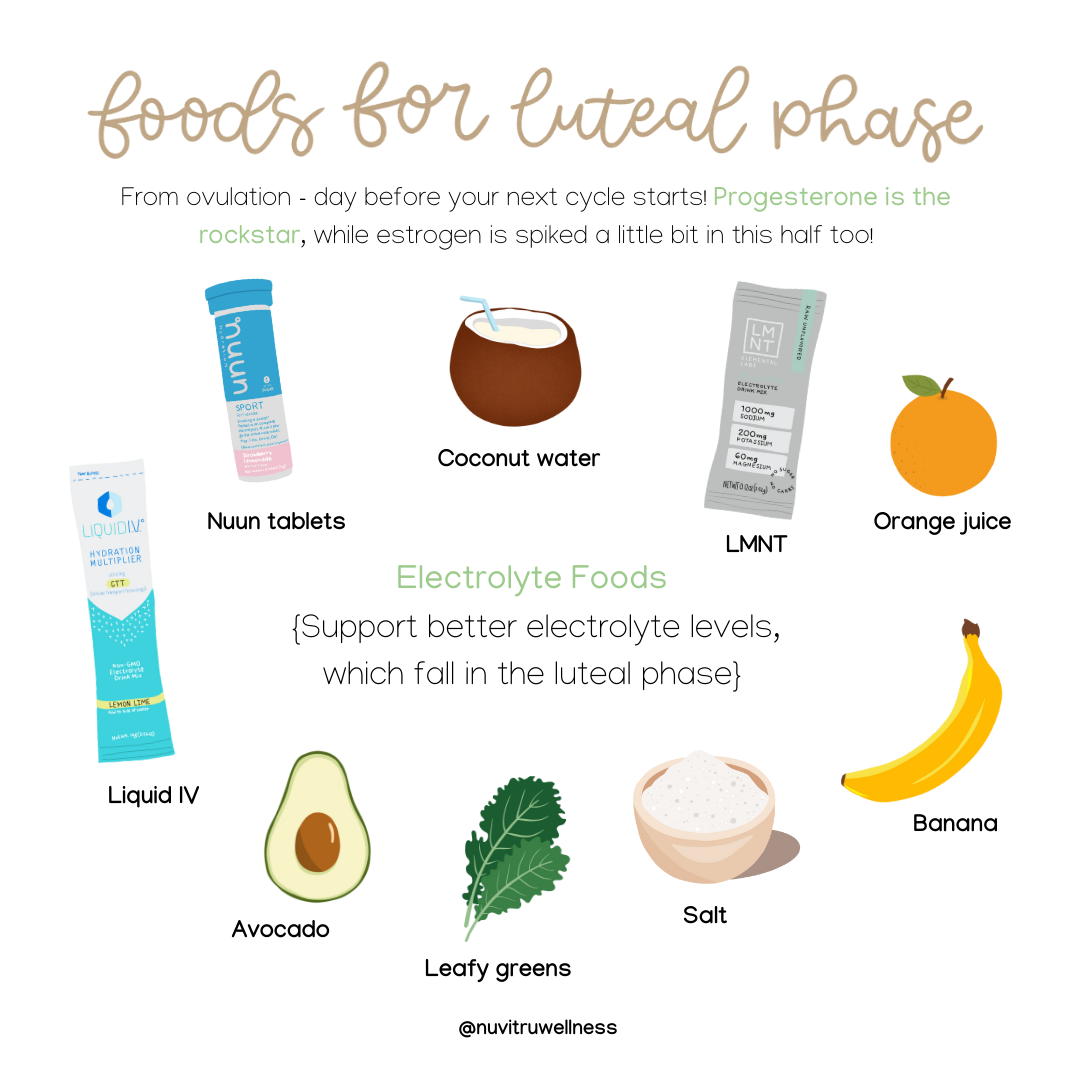 B6-rich foods are also important for optimal progesterone production. These foods are things like salmon, chickpeas, eggs, tuna, and sweet potatoes. During the luteal phase, women tend to have a bigger appetite as well? Have you ever felt that? It's time to hone into those feelings and make sure that you're getting a balanced diet and that DOES include carbohydrates.
Some of our favorite complex carbohydrates are potatoes, squashes, brown rice, and legumes! These can also be sources of food for your gut bacteria + they'll produce short-chain fatty acids, which protect colon cells. Remember, what we talked about detoxification? It's a win-win!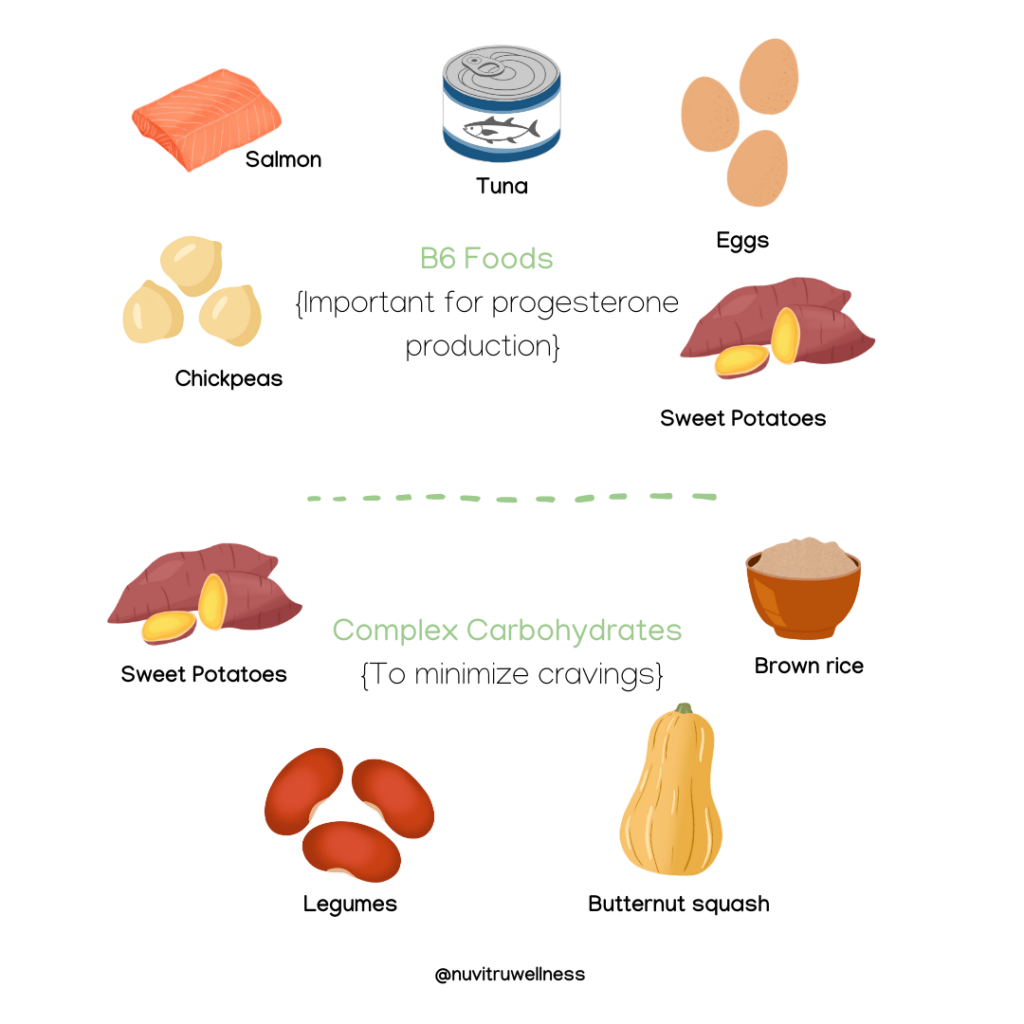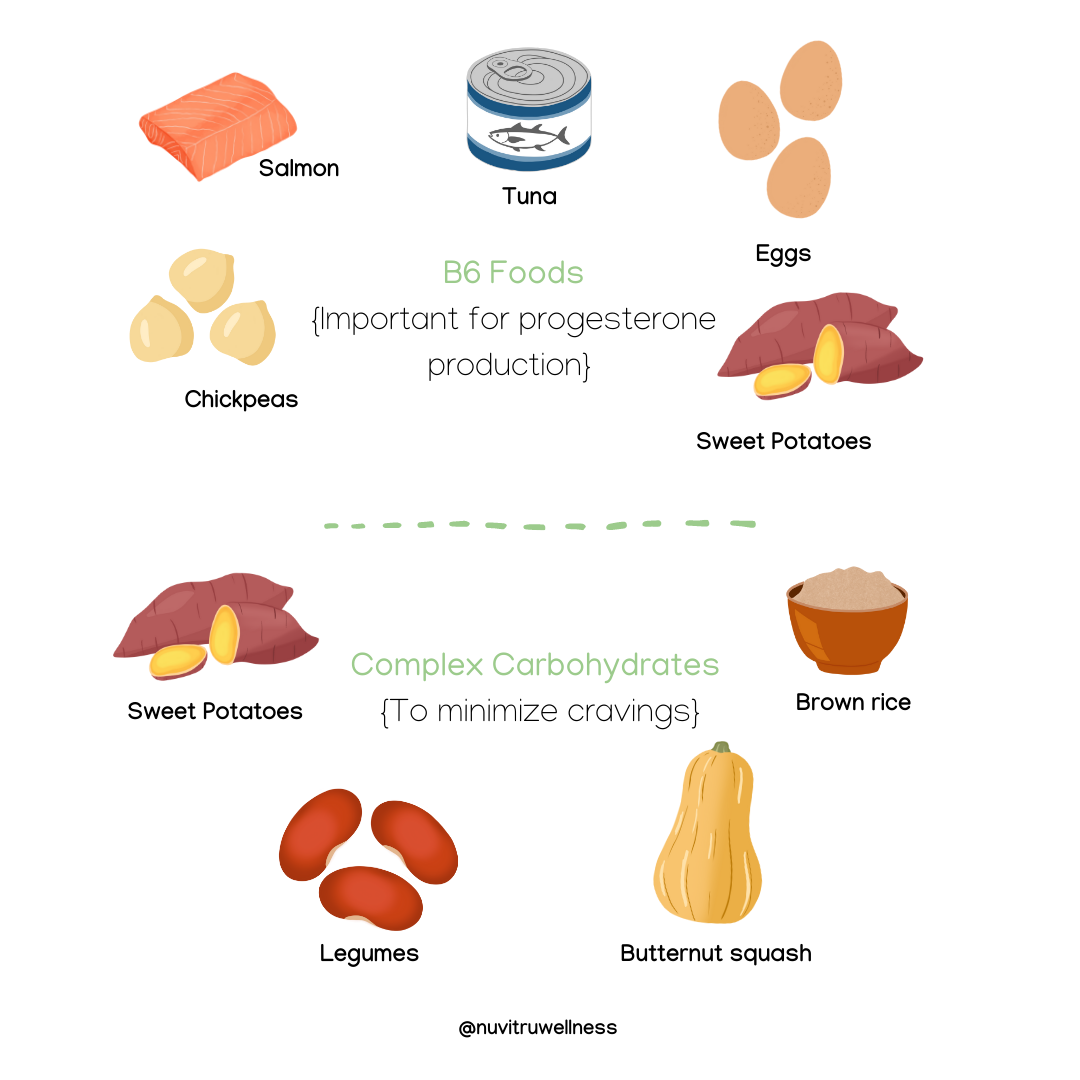 Are you feeling inspired to cycle sync your food and emphasize what your body needs in particular phases of your cycle? Do you have any questions on foods for your menstrual cycle?