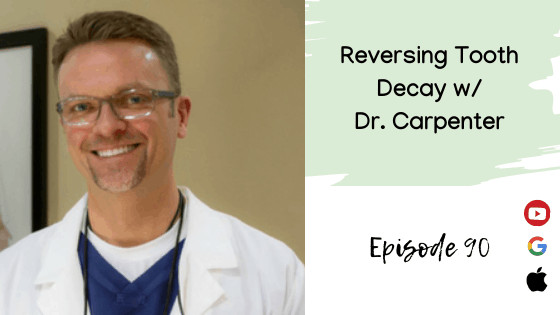 14 Nov

Reversing Tooth Decay w/ Dr. Carpenter
Reversing Tooth Decay
A HUGE question that I get all the time is "how do you reverse tooth decay? It is possible?" One of my biggest struggles was finding a good dentist that actually understood the whole body approach to dentistry. The word "holistic" dentistry is thrown around and a dentist could be "holistic" by simply just not using mercury. I wanted more. I wanted a dentist to not just fix things when a problem occurred, but to help me keep a healthy mouth and understanding and recommending MORE than just brushing and flossing.
Duh, everyone knows to brush and floss. When I moved to Austin, I was SO happy to find Dr. Carpenter. I finally found a dentist that understand the nutrition side of oral care and how to take the whole body approach in dentistry. We have rebranded to Nuvitru Wellness!
Today, we're speaking about reversing tooth decay. A hot topic among many moms as we search for a natural alternative to take care of our kiddos.
Dr. Matthew Carpenter
Dr. Carpenter is a holistic dentist and naturopathic doctor in Austin, TX. He is the founder of Transcend Dental. He is a member of the American Dental Association, Academy of General Dentistry, American Academy of Cosmetic Dentistry, International Association of Dental Research, and many more associations and clubs.
Dr. Carpenter has had the opportunity to study and train with some of the finest dentists in clinical practice today. He has additional training in dental digital imaging and routinely performs complimentary dietary analysis to see if diet and/or lifestyle could be contributing to disease.
Dr. Carpenter has a special interest in nutrition and chronic disease prevention and explore alternative approaches to improving overall wellness and quality of the lives of the patients he serves.
Connect with Dr. Carpenter over on Facebook and his website.
Connect with Lahana from Nuvitru Wellness on Facebook, Instagram, and the Blog!
Join our holistic natural living Facebook Group to get around like-minded people and get additional support!