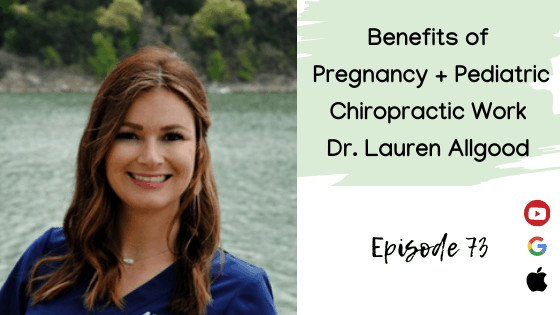 18 Jul

Why Chiropractors Are Great For Pregnancy

If you've been wondering why chiropractors are great for pregnancy, sit down with Dr. Lauren Allgood + I to discuss the benefits. This is something that she has a passion for and has seen the benefits firsthand with patients. Also, we've rebranded to Nuvitru Wellness!
Lauren Allgood is a chiropractor based out of Austin, TX. She has a chiropractic business with her husband, Jimmy Allgood. When she was younger, chiropractor benefited her through back pain from being a competitive athlete, increased energy levels, and a stronger immune system. While she was working with her cousin who is a chiropractor, she became inspired to become one herself.
She received her Bachelor's of Science in Allied Health from Nicholls State University and moved to Dallas, TX. She attended one of the top chiropractic schools, Parker University, where she received her Doctorate of Chiropractic. She has a passion to use chiropractic for pregnant moms + children. She became a certified pediatric and family chiropractor through the International Chiropractic Pediatric Association.
Did you have any other questions on why chiropractors are great for pregnancy? If you're local to Austin, TX, reach out to Dr. Lauren.
Connect with Lauren at her website + Facebook + email at allgoodchiropractic@gmail.com
Connect with Nuvitru Wellness over at the blog + Facebook + Instagram.
If you're ready to take back your health, check out our Services page to learn more about what we do and what we can do to help you!