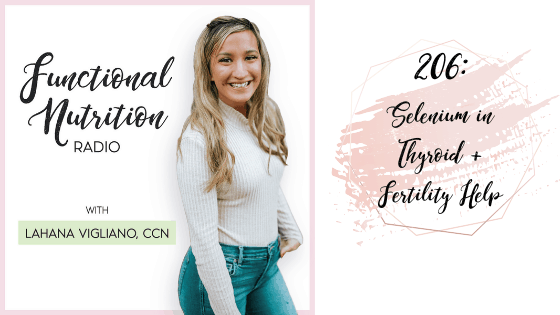 23 Jan

Episode 206 – Selenium in Thyroid + Fertility Health

**We've rebranded to Nuvitru Wellness** Selenium is an important nutrient that doesn't get much attention, like Vitamin C or Vitamin D. But, it should! Especially for thyroid and fertility health. In this episode, I want to dive into specfically those two things and how selenium really impacts that.

If you haven't been on the blog in awhile, these pork chops are amazing with a topping of cranberry chutney!

In this episode, you'll hear from our sponsor Wild Foods Co. website to get your box full of sustainable healthy goodies! From supplements to coffee, rest assured you'll love the quality of these products! My favorite product from them is their matcha.

If you're tired of seeing what sticks and tired of the dieting off and one, go ahead and book your free appointment with Lahana to learn how we can help you with your health goals. In this call, we go over what you're struggling with, a little bit of your history, and the next steps in how we can help you! Don't give up on your health!

Connect with us on Facebook, Instagram, and the blog! We love connecting with our community, so give us a follow + tag us @nuvitruwellness when you are listening to a podcast or reading a blog or making a recipe – we love seeing it!