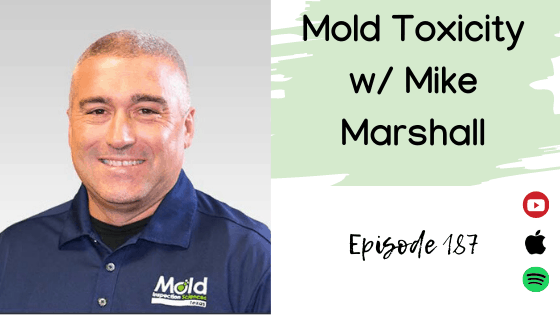 03 Dec

Episode 187: Mold Toxicity w/ Mike Marshall
Mike + I are talking about a hot topic today – MOLD!
What it is + why it can grow in the homes
Length of time for it to grow
How to prevent growth
Testing for it
Is DIY remediation good?
Connect with Mold Inspection Sciences Texas on their website, Facebook, Instagram, YouTube, and their Google Listing!
Connect with Lahana on Facebook, Instagram, and her website! **We've rebranded to Nuvitru Wellness**
About Mike Marshall + Mold Inspection Sciences Texas
As the chief operations officer of Mold Inspection Sciences, Mike Marshall oversees the company's operational aspects, coordinate with managers and departments to achieve objectives and goals, promote employee growth, and assist in establishing policies that continue to promote company culture and vision.
In his prior role as director of operations, Marshall served as a growth catalyst, negotiating strong business development, and has been well known for infusing productive energy into building high-performance teams. Mike has worked with Mold Inspection Sciences Texas since March of 2018 and brought with him over 20 years of management expertise.
Mike is also a proud family man, married to his wife Dawn for over 20 years who he has raised 4 amazing boys with. Together Mike and Dawn also have 2 dogs, Lucky and Bear and two cats, Leia and Padme. Mike's passions in addition to his career include physical fitness and coaching and officiating athletics to include football, wrestling and baseball and the youth and high school levels.
Mold Inspection Sciences Texas, was founded in 2007 by CEO Michael Bains with one simple goal in mind: to provide affordable, professional, and high-quality mold inspection and testing services to people across Texas suffering from the nuisance of mold. Over the past 12 years, MISTX has successfully performed and resolved thousands of investigations, providing safer and healthier conditions for a wide variety of clients to thrive in.