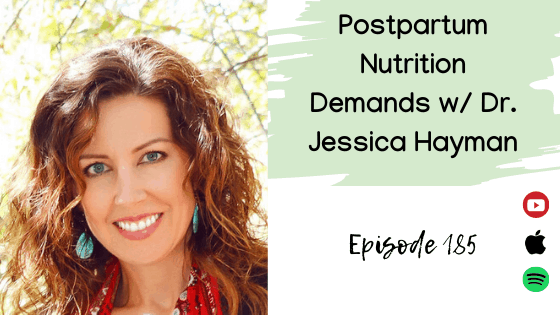 19 Nov

Postpartum Nutrition w/ Dr. Jessica Hayman {Episode 185}
Postpartum Nutrition
Postpartum nutrition can be a tough for mama due to the demand of labor + trying to recover! We cover these questions in the episode….
Why is postpartum a stage that needs to be taken more seriously and why postpartum nutrition is important

Common postpartum issues

How we can influence postpartum issues with lifestyle

How each subsequent birth makes an impact on our body's nutritional reserves
Connect with Dr. Hayman over on her website, Instagram, and Facebook!
Connect with Lahana over on her website, Instagram, and Facebook! **We've rebranded to Nuvitru Wellness**
P.S. Try our Pasta E Fagioli, if you haven't already! Perfect for a weeknight meal + you can make it in the Instant Pot! WIN!
About Dr. Jessica Hayman
Dr. Jessica Hayman is Naturopathic Doctor and mom. She has been in practice for nine years and a mom for eight years. She live in Sedona, AZ and really enjoy being part of the community here. When she had my son, she realized there was a real need for nutritional support for moms in the postpartum phase. That's a main reason why she created Mama Love Wellness Packs, to make it easy to get the nutrients moms need in order to better care for their babies.