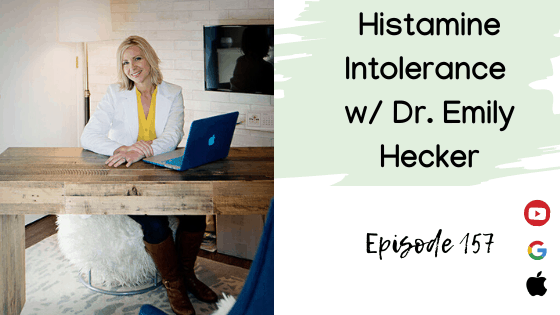 16 Apr

Histamine Intolerance w/ Dr. Emily Hecker EPISODE 157
Have you heard of histamine intolerance?!
We sit down with Dr. Emily in today's episode and ya'll this one is SO good. Unfortunately, we had some connection problems during this interview, so I edited the best I could and stay tuned at the end, so I can share with you some parts of it I had to cut out because of the communication breaking up. I didn't want you guys to miss out!
More on Histamine Intolerance
What is HI?
How do you feel with this condition?
Why we get a DAO enzyme deficiency?
Is Gut health related?
Foods higher in histamine
Testing
Stress + histamine
Supplements for histamine
About Dr. Emily Hecker
Dr. Emily is owner of her clinic, Enlighten Functional Medicine and founder of Your Fertile Solution. She is a board certified chiropractic physician who is passionate about Functional Medicine. Patients seek her out specifically for nutrigenomic support for those who have a genetic polymorphism for MTHFR, histamine intolerance, mycotoxin illness and infertility. She is proud to offer nutritional consults for her patients.
She specializes in supporting those with autoimmune diseases, MTHFR polymorphisms, food sensitivities and inflammation. She has had extensive training in understanding the methylation pathways trained by Dr. Ben Lynch, world leader and expert in MTHFR. She has post doctorate training in Functional Endocrinology, Functional Blood Chemistry Analysis, Neuroimmunology, Thyroid Disorders, Chiropractic Craniopathy, and the Webster Technique.
Connect with Emily over on Facebook + Instagram + YouTube!
Connect with Lahana over on Facebook + Instagram + her blog!