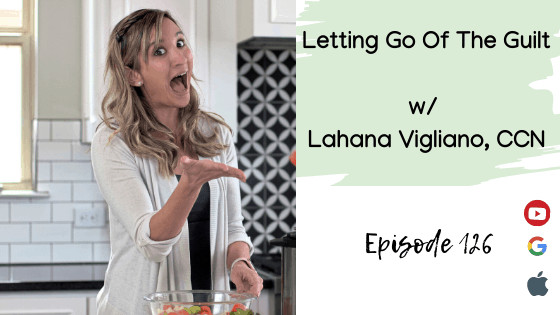 14 Aug

Letting Go Of The Food Guilt w/ Lahana Vigliano, CCN

Struggling with letting go of food guilt if you indulge in something you usually don't eat…something unhealthy? Enter food guilt! Tune in this week to kick your guilt to the curb, seriously. This is coming from the healthy living queen herself! 😉

We have rebranded to Nuvitru Wellness!

Do you feel like there are so many restrictions like gluten, soy, dairy, sugar, and alcohol and feel overwhelmed? We show you how to live without regret without shame while support your body after you indulge. Whatever you decide to indulge on, we want you to learn your body to make an educated decision. Most importantly we want you to LOVE real food and enjoy the feeling of nourishing your body with organic whole foods. Just like one salad won't make you healthy, one slice of pizza won't make you unhealthy. We want to lower inflammation and teach you about foods that you are sensitive to. We practice bioindividuality and would love to give you customized results

Ask me about our food as medicine gut reset approach – if you struggle with gut issues, like IBS, Crohn's, Colitis, etc. You don't necessarily have to have a diagnosis for a gut issue – this is for anyone struggling with heartburn, bloating, excessive gas, etc. This is the reset that I use for my clients!

Connect with me over on Facebook, Instagram, and our website!