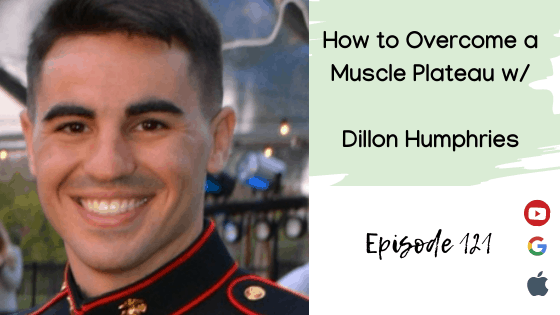 10 Jul

How To Overcome A Muscle Plateau w/ Dillon Humphries

In this episode with Dillon Humphries, we're talking all about overcoming a muscle plateau. This can be a very frustrating time for people who are looking to gain muscle, but we all hit a muscle plateau at some point and we want to help you overcome that. But don't be surprised if you hit one! We are covering…

We have rebranded to Nuvitru!!
Basic rules for building muscles
Why plateau's happen
How to break through a plateau
Nutrition + muscle building
Best way to keep track of gains
Time frame for gains
Rest days for building muscle
About Dillon Humphries | Overcoming Muscle Plateau
Dillon is based out of Orlando, Fl. He has a bachelor's degree in Exercise Physiology, Certified Personal Trainer, Wellness Coach, Corrective Exercise Specialist, and Boxing Instructor. He is also a medically retired marine. He is also in chiropractic school!
Connect with Dillon over on Instagram!
Connect with Lahana from Nuvitru Wellness over on Facebook, Instagram, and the blog! If you're ready to get help optimizing your diet, head over to our website and fill out the form to request your free appointment on our services page! We would love to help you with your diet and well-being overall, with or without a muscle plateau!