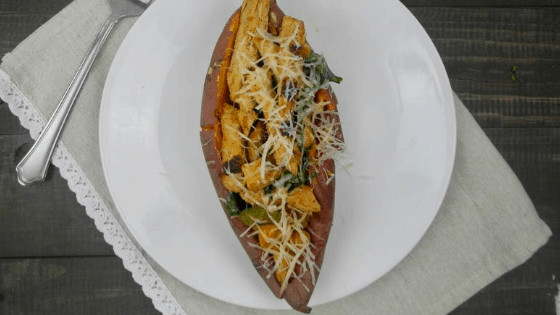 01 May

Chicken Stuffed Sweet Potatoes

Oh man, this was exactly what I needed for lunch last week – chicken stuffed sweet potatoes. It was so quick to make, but so fulfilling and delicious! I seriously whipped one up in 10 minutes. I really feel that lunches are probably the hardest meals to make if I don't have leftovers.

It's the middle of the day + I don't really feel like being in the kitchen because I just cooked a couple hours ago and I'm about to cook in a couple of hours for dinner. So, I want something fast, but nutritious. I mean, you've been there right?

Well, let your tastebuds PARTY!

When you make these chicken stuffed sweet potatoes, head over to Instagram and Facebook and tag us @nuvitruwellness, so we can see your plate!
Ingredients
Spoonful of Coconut Oil
1 Cup of Fully-Cooked, Sliced, Grilled Chicken Breast (We love using Simply Balanced frozen chicken strips in a pinch!)
1/2 Cup Mixed Sweet Peppers (We used Whole Food's 365 frozen organic sliced peppers!)
Handful of Organic Spring Mix
1 Sweet Potato
Salt + Pepper
1 Tsp Paprika
1/2 Tsp Italian Seasoning
Directions
Heat up the sweet potato in microwave for 4-5 minutes. (This is literally one of the only times I use a microwave!)
In a small skillet, heat up the coconut oil.
When the oil is melted, add in chicken and sweet peppers and cook for 3-5 minutes until thawed and heated throughout.
Mix in spring mix, salt, pepper, paprika, and Italian seasoning. Cook until everything is heated and spring mix is wilted.
Slice the sweet potato lengthwise and fill it with the cooked chicken mix.
Top with some pasture-raised cheese if you want!