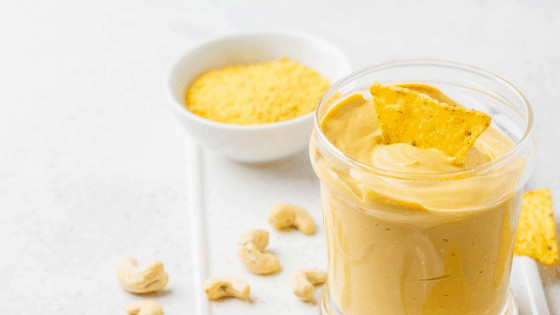 17 Aug

Cheesy Grilled Chicken with Cashew Cheese

Cashew cheese… have you tried this creamy goodness? Okay, I was impressed. Really impressed. I interviewed Shalva + Lenny Gale on the podcast on episode 71 and it was all about using your Vitamix to get more plants + nutrition into your diet. I LOVE my Vitamix – hands down one of the best presents (/investments) there is.

I look back and don't understand how I used those $20 blenders anymore. Once you go Vitamix, you can't go back that's for sure! Anyways, during our podcast episode, he mentioned how they had a really awesome "cheese" queso that is made out of cashews + I remember telling him how I've wanted to make some for the LONGEST time.

I saw their recipe + trusted it more than anything else I saw on Pinterest. So, I decided to cross that off my cooking list today! And make cheesy chicken for dinner! Tag us on Instagram + Facebook @nuvitruwellness when you make this so we can see your yummy creation!

Ingredients 
Life Is No Yoke's Cashew Cheese (I had to improvise, since I didn't have all the ingredients. I used plain coconut milk instead of almond milk. I just used one full cup of raw cashews versus 1/2 cup cashews + 1/2 cup almonds.)
Chicken Breast (Butterfly Cut)
Cumin
Paprika
Garlic Powder
Salt + Pepper
Avocado Oil
Directions
Follow the directions on No Yoke's website on how to create the cashew cheese.
Heat up a cast iron grill pan with avocado oil.
Season the chicken breast on both sides with spices. You guys know I don't measure spices during cooking….I just season until it's coated pretty medium (not too light + not too heavy). It's really your preference.
Grill the chicken breasts until they are seared on both sides + cooked to an internal temp of at least 165 degrees F.
Take the chicken breasts off the skillet + top with the cashew cheese.
Enjoy!