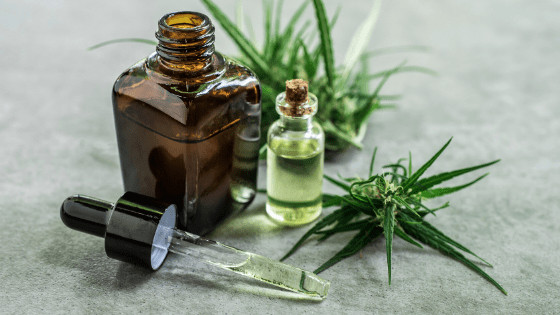 28 Mar

Can CBD Oil Help With Anxiety?
Why I Wanted To Dive Into CBD Oil
Have you heart of CBD oil for anxiety? On my quest to relieve my anxiety naturally, I looked through so many herbs. I have been taking different types of adaptogens, eating a wholesome diet, exercising, and trying to put meditation in my routine, but anxiety can rear its ugly head. To be honest, it's the pressure I put on myself as an entrepreneur and all the goals I have in business and in family + marriage. Who doesn't have a full plate?! I know I do + that can be a real trigger for anxiety for me!
One remedy that I didn't try yet was CBD oil, aka hemp extract. First off, no it doesn't get you high. Like every other food, there are many components to a plant. There are various cannabinoids in the hemp plant. THC is a known for the "high" effect, while CBD is NOT a psychoactive part of the plant.
Connecting to Receptors
In Neurotherapeutics, it explains how CBD oil helps regulate anxiety/fearful behaviors…
CBD has a broad pharmacological profile, including interactions with several receptors known to regulate fear and anxiety-related behaviors, specifically the cannabinoid type 1 receptor (CB1R), the serotonin 5-HT1A receptor, and the transient receptor potential (TRP) vanilloid type 1 (TRPV1) receptor
There are already anti-anxiety medications that target some of these receptors, such as 5-HT1A. When the 5-HT1A receptor is activated, anti-anxiety is established. In the British Journal of Pharmacology, it showed that CBD oil indirectly influenced this receptor of 5-HT1A (which also benefited for anti-nausea).
When an animal study was done, animals that had the CBD oil showed anti-anxiety and antidepressant activity. This study further mentioned that CBD oil have an interaction with 5-HT1A receptor.
When I was doing research, I felt like I saw more of a connection with the 5-HT1A receptor versus the cannabinoid receptors. The other receptor that is mentioned is the TRPV1 and this receptor is connected with how we respond to pain. CBD is able to bind to this receptor and influence our pain levels.
CBD + Anxiety
In a meta-analysis of a couple different studies with animal and human studies combined, it showed that CBD had an anti-anxiety effect. There were two groups that had social anxiety disorder that took 600 mg of CBD or a placebo. Results were…
Showed that the levels of anxiety, somatic symptoms, and negative self-assessment were higher in patients who took placebo than in those of the CBD group who performed similarly to healthy controls in some measures.
In another study, CBD oil was still shown to decrease the amount of social anxiety and the effects it has on limbic system. The limbic system is where our mood and emotion nerves are in the brain.
Relative to placebo, CBD was associated with significantly decreased subjective anxiety (p < 0.001), reduced ECD uptake in the left parahippocampal gyrus, hippocampus, and inferior temporal gyrus (p < 0.001, uncorrected), and increased ECD uptake in the right posterior cingulate gyrus.
Can CBD Oil Help With Anxiety?
As evidence shows, it's a supplement that can be very beneficial for the treatment of anxiety disorders. The dosages that run in the studies are from 300-600 mg. Studies have not shown any negative side effects of CBD oil with an amount of 1200 mg per day, but efficacy has been shown in the lower range.
There has been one recent study that was set up ideally with a double blind, placebo controlled study that showed CBD oil didn't influence mood and anxiety. That more research needed to be done. And I agree, but so far the majority of what is out there shows CBD oil being more beneficial than harmful.
Have you tried or want to try CBD oil for anxiety?
We love to look at anxiety from a multidimensional and bioindividual perspective. Here is an insightful podcast I hosted with Ali Miller on the anti- anxiety diet