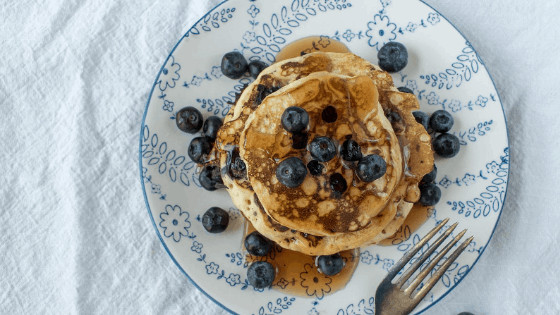 04 Jun

Blueberry Cassava Pancakes

We love pancakes. It's a classic weekend breakfast for our family, in addition to some eggs, bacon, kale. You know, allllllll the good stuff. So, this is why these blueberry cassava pancakes were on my docket. I've only played with cassava a handful of times + again, I'm pretty impressed.

I wouldn't say you could use cassava on a 1:1 ratio – I would use a little bit less of cassava flour than wheat flour. The taste is great, the texture is on point, I mean you just can't get enough.

These blueberry cassava pancakes are no exception! Are you ready to enjoy? Don't forget to top with some grass-fed butter! (Yum!)

If you make these pancakes, head over to social and tag us over on Instagram and Facebook @nuvitruwellness!

Ingredients
1/2 Cup Cassava Flour
1 Cup Almond Flour
1/2 Tsp Cinnamon
1 Banana (Mashed)
1 Tsp Baking Powder
2 Eggs
1/4 Cup Coconut Oil (Melted)
3/4 Cup Coconut Milk
1/2 Cup Blueberries
Grass-Fed Butter (For Topping)
Maple Syrup (For Topping)
Directions
1. In a bowl, mix together the cassava flour, almond flour, cinnamon, and baking powder together.
2. In a separate bowl, mash the banana down into mush.
3. In the banana bowl, mix in the eggs, coconut oil, and coconut milk until well combined.
4. Take the banana mixture and mix into the flour bowl. Mix until well combined.
5. Fold in the blueberries to the batter. (You can use fresh or frozen blueberries.)
6. Heat a skillet with a spoonful of coconut oil and wait until the skillet is hot.
7. Once it's hot, pour a little bit of the batter into the skillet. Wait until the edges are brown and firm before you flip.
8. Brown both sides and make sure the inside is cooked.
9. Top with grass-fed butter + maple syrup!