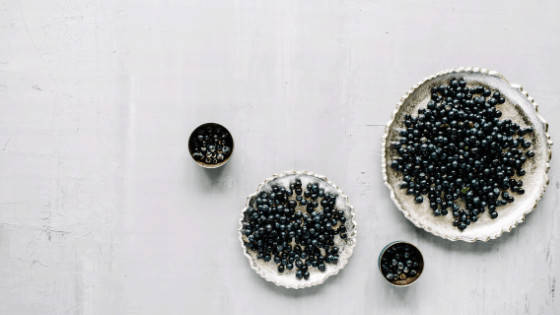 29 Aug

Bilberry – An Herb For Diabetes, Heart Health, and Vision

On Instagram, I asked my community if they were interested in me writing and going more into depth on herbs/supplements education. There was a big YES! I guess, I'm not the only one to geek out on this kind of stuff, butI love using what our ancestors used to support our body. Seriously, how amazing is it that they used plants and foods as medicine before the pill mill started. Today, we're going to be talking about bilberry! (Side note: There is always a time + a place with Western medicine. I'm very grateful to have the emergency medicine we do now, BUT we can NOT separate from our ancestral ways. This was the foundation we all grew from!)
What is Bilberry?
Bilberry is a fruit that is native to Europe, Asia, and North America. It's in the same family as blueberries – which I know we are familiar with in the United States. Bilberries consists majorly of anthocyanosides, catechins, quercetin, tannins, and flavonone glycosides. (Fancy words, but is the chemistry behind this food!)

Bilberry is actually is one of the richest sources in the anthocyanosides, which holds many health benefits that benefit our vision, heart health, blood-sugar regulation….
Stabilizes collagen – which increases the strength of tissues in ligaments, tendons, and skin, therefore, Increasing the strength can reduce other inflammation from damaging the tissues.

Relaxes smooth muscles – Smooth muscles are in your blood vessels, gastrointestinal tract, reproductive system, and more.
Builds strong capillaries in the cardiovascular system to reduce the risk of hemorrhaging. It can be effective for varicose veins, stroke, heart disease, hemorrhoids, and diabetic retinopathy. Bilberry does this by increasing intracellular vitamin C.
Increases the mucus in the digestive tract – Protecting your body from stomach ulcers
Reduces blood clots
Lowers blood glucose levels
Reduces free radical damage in our body that can lead to more chronic health issues
How To Use Bilberry?
Bilberry is commonly used in supplement form of a standardized bilberry extract thatIt usually holds about 25% of anthocyanidin. Dosages usually range from 80-160 mg 2-3x per day. It depends on what you're using bilberry for, which is why I recommend working with a doctor or nutritionist to find out what works best for you!

If you want to see which bilberry supplement I recommend, it's in my virtual dispensary (that you can order from!) and it's under the categories of… 1) Anti-inflammatory 2) Cardiovascular Health 3) Blood Sugar / Insulin Support.
Dried bilberries can also be used in a tea, but unfortunately it's very uncommon to find here in the United States.
Toxicology/Warnings
Bilberry is a pretty safe herb, as there are no side effects, toxicity or even contraindications for bilberry! Whoooo hooo! If you are on any anticoagulant drugs, check with your doctor before taking since it does prevent blood clots already.
Recap: If you're struggling with blood sugar issues, cardiovascular problems, vision problems (can be from diabetes or even just eye health by itself), stomach ulcers, bilberry may be a great supplement to add to you regimen!