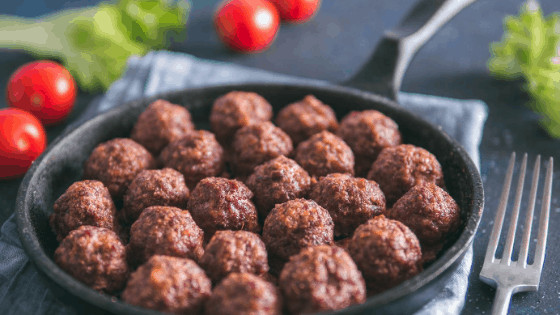 24 Jun

Beet-Stuffed Meatballs

One dish that kiddos love are MEATBALLS! When I'm cooking, I love to stuff as many vegetables in my dish and get away with it without them noticing. Especially right now during my daughter's picky eating stage. Meatballs was on the menu this week and I decided to add some extra special vegetables for extra nutrition KICK! BEETS! Kids didn't notice = parenting WIN!

Before I tell you about this delightful recipe of meatballs, I wanted to let you in on what I do with my beets beforehand. When I get beets from the store, I skin them, dice them, and then throw them into a food processor to chop them up into little pieces. After that, I will freeze them in a plastic bag. This is how I am able to just grab it and throw it in. I don't use beets that often, so I prep them and store them that way, so they don't go bad. In the recipe, I will say "prepared" beets & that's what I mean by that.
Ingredients
2 lbs of Grass-fed Ground Beef
1 Small Onion, Diced
5 Garlic Cloves, Diced
3/4 Cup of Prepared Beets
1/8 Cup of Coconut Aminos (feel free to add more if you want)
Garlic Powder
Onion Powder
Salt & Pepper
1 Jar of Organic Marinara Sauce
Directions
Preheat the oven to 350.
Prepare all vegetables. Dice the onions, garlic, and beets.
Put the grass-fed beef in a bowl along with the vegetables and coconut aminos. Mix well.
When the meatballs are mixed up, throw in garlic powder, onion powder, salt, and pepper. I don't measure spices because I just care about the meat being well seasoned. Don't over think it, just spice up your beef.
Mix well & make into meatball shape.
Bake in oven for 20 minutes, then top the meatballs with the marinara sauce and heat up for another 5-10 minutes.
Tag us @nuvitruwellness on Instagram or Facebook when you make these so we can spread the meatball LOVE!