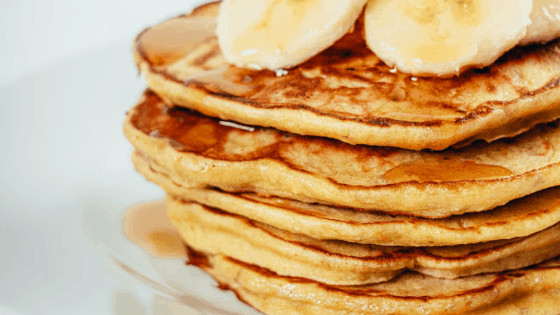 26 Aug

Banana Oatmeal Pancakes (Gluten-free!)

 I woke up in the mood for pancakes, particularly banana oatmeal pancakes. I wanted to hop out of my comfort zone of always using almond flour and coconut flour. So I decided to grind up some organic rolled oats and use that as a flour. No, this wasn't the interesting part of my morning.

The interesting part was trying to potty train my daughter and in the corner of my eye, I see a little frog in the toilet. Oh, good ol' Florida. I shut the toilet lid and thankfully a sweet friend of mine came to rescue! And in return, I served up these pancakes – which I always get nervous when creating a new recipe because you never know if it's going to turn out good. Well, they turned out delish!

So here I am…..sharing this recipe with you this morning! Hopefully that's as eventful as the day will get! I also call these blender pancakes because you can just throw all ingredients in a blender if you want to. Less dishes to clean up afterwards.

When you make these banana oatmeal pancakes, send us a message over on Instagram or Facebook @nuvitruwellness so we can see your beautiful creation!

Ingredients
2 Cups Organic Rolled Oats (Grinded up into a flour)
1 1/2 Bananas
1 Cup Coconut Milk
1/2 Tbs Raw Honey
1 Tsp Vanilla Extract
3 Pasture-Raised Eggs
1 Tsp Baking Powder
1/4 Tsp Allspice
1 Tbs Coconut Flour
Coconut Oil for Cooking
Maple Syrup for Topping
Directions
Grind up the oats into a flour. I use a food processor to do this.
Mix all ingredients together. I love using a hand mixer to make the mixing process fast & easy!
Heat up a skillet with coconut oil and go ahead and start pouring some pancakes in the skillet. I made about 12 medium sized pancakes with this recipe.
Flip each pancake when the bottom of the pancake feels firm.
Top the finished pancake with some maple syrup & enjoy!