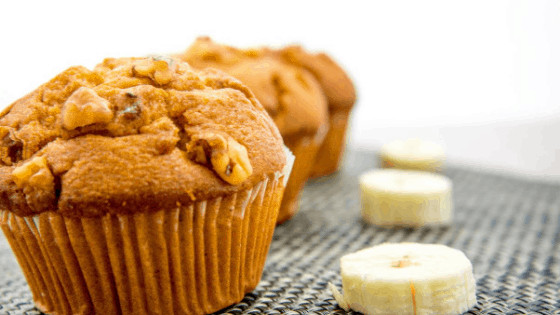 01 Aug

Banana Nut Muffins (Gluten-Free)

Nothing like some fresh banana nut muffins that you can have for breakfast, especially when they are healthy & gluten-free! I love pairing these muffins up with some breakfast Applegate sausage and eggs. My kids love having these muffins for some snacks. Feel free to add some organic fair-trade chocolate chips to these too. Yummy! You can't go wrong baking a batch of banana nut muffins. Tag us @nuvitruwellness on Instagram or Facebook when you make these so we can spread the muffin LOVE!
Ingredients
2 Large Bananas (Mashed)
2 Pasture-Raised Eggs
1 Tsp Cinnamon
2 Tbs Grass-Fed Butter (Melted)
2 Tbs Almond Butter
3/4 Cup Almond Milk
1 Tbs Raw Honey
1 Cup Almond Flour
1/2 Cup Coconut Flour
1 Tsp Baking Soda
1 Tsp Baking Powder
Pinch of Salt
1 Cup Walnuts
Directions
Preheat oven to 350 degrees F.
Mash the bananas up in a bowl. In the same bowl, put the eggs, cinnamon, melted butter, almond butter, almond milk, and raw honey and blend well.
Add in the almond flour, coconut flour, baking soda, baking powder, and salt into the banana mix bowl & mix all together.
Once everything is mixed, dump in the walnuts and mix!
Using a cupcake pan, add cupcake liners (or spray with coconut oil spray). Fill each cupcake portion 3/4 full.
Bake for about 30-40 minutes or until done.
Let cool down for 10 minutes, then EAT! 🙂
Makes a dozen cupcakes.