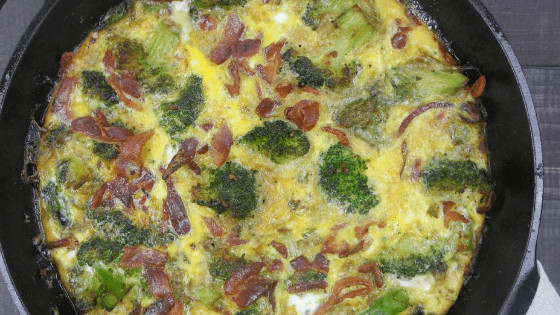 26 Apr

Bacon Broccoli Frittata

We are obsessed with this bacon broccoli frittata recipe! This is a great recipe for breakfast or dinner (aka brinner!). It brings so many vegetables into the dish to create flavor and tons of nutrients! This is also a recipe that is fantastic for prepping for breakfast for the week. This dish is naturally gluten-free, but I do want to express the importance of quality. Especially the bacon! Pork can be a pretty "dirty" food, so getting bacon from happy pastured pigs can help reduce toxic load.

Certain vegetables in the morning can help lower blood sugar, which these are perfect to add into your morning omelets or skillets, just like this! Positive Health + Wellness gives a good list of must-have vegetables to control your blood sugar in the mornings! Hint: we have some in this recipe! 😉

Make sure to tag @nuvitruwellness on Facebook or Instagram when you create this goodness!

Ingredients
1 Package of Bacon (Preferably Pasture-Raised + Uncured)
8 Eggs (Preferably Pasture-Raised)
2-3 Handfuls of Organic Spring Mix
1 Bag of Frozen Broccoli
3 Cloves of Garlic (Chopped)
2 Tbs Chives (Chopped)
Salt
1 Tsp Garlic Powder
1 Tsp Paprika
Directions
Preheat oven to 375 degrees F.
In a cast iron skillet on the stovetop, cook the bacon until crispy. Put bacon on plate + sit aside.
In the cast iron with the bacon grease, cook the broccoli and garlic until semi-soft.
Add in the chives and spring mix.
While everything cooks in the skillet, scramble up the eggs in a separate bowl.
When leafy greens are fully wilted, add in the spices and mix well.
Crumble up the cooked bacon evenly over the vegetables.
Add the scrambled eggs in the skillet.
Put the skillet into the oven and bake for 20-35 minutes (or until eggs are firm!).
Let cool + serve!